5. Accounting
Fees will vary depending on the contents of pelvic or other examinations. Payment is accepted in cash, or credit/debit card (some restrictions). Acceptable credit cards: NICOS, UFJ, DC Card, VISA, Master, AMEX, JCB, Diners
The procedure seen above will be followed.
All staff members will welcome you with smiles. Please feel free to approach us.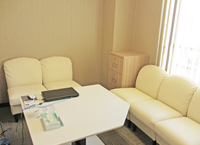 Psychological counseling
Hours for psychological counseling are set separately from general consultation hours. Counseling will be provided, not by a doctor, but by a certified counselor specializing in reproductive psychology. Please feel free to contact us.
One counseling session is approx. 50 minutes per person. Each session costs 3,240 yen for patients already receiving treatment at this clinic, and 5,400 yen for other patients. Reservations can be made at the reception desk or by telephone (03-6408-4124).